The LigerBots finished strong at the New England District Championship! Following our excellent performances at the Rhode Island and Revere District competitions, the LigerBots competed alongside alliance partners Air Strike 78 and Mayhem Robotics 8724 and placed 25th out of 90 teams—nearly qualifying us for the World Championships.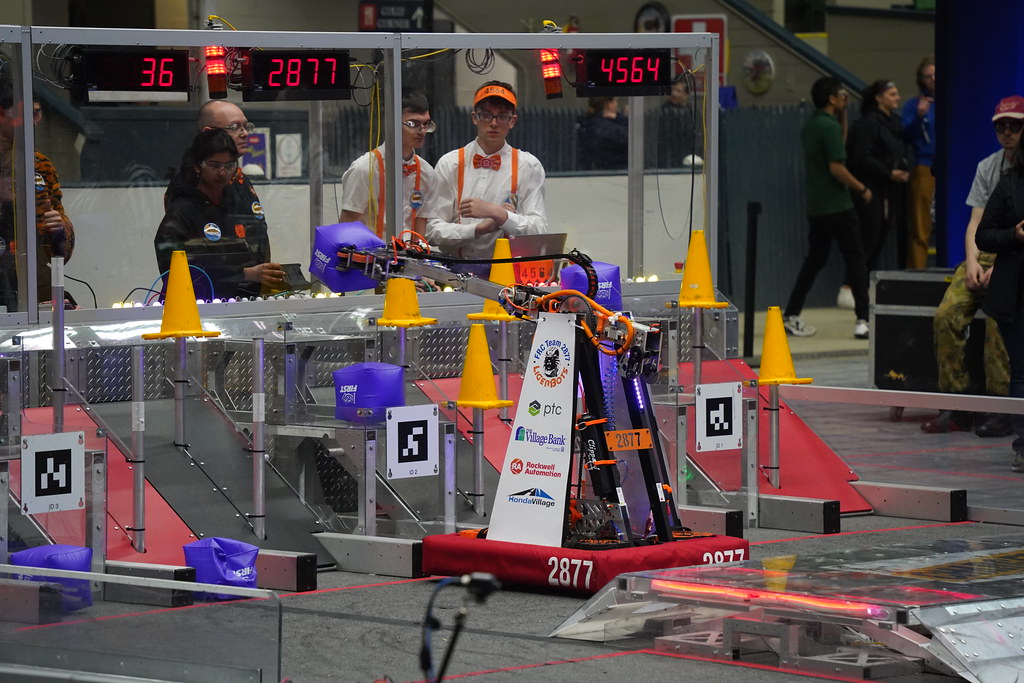 Besides our strong finish, the team also won our first Imagery Award at the New England championship level, which recognizes "outstanding visual aesthetic integration of machine and team appearance." The team attributes the award to the graphics subgroup, who designed a cohesive team image, including a banner, 60-page team booklet, graphics standards booklet, and more. Graphics also coordinated with engineers to bring the same aesthetic standard to the robot by including tiger stripes in the design.
Kevin, LigerBots co-CTO and junior at Newton South High School, was named one of the four Dean's List Finalists and won an invitation to attend the World Championship in Houston. He was selected for his excellent leadership, expertise, and passion for robotics. Congrats to Kevin!
LigerBots engineer Jeffrey kicked off the event by playing the national anthem on his electric guitar, Jimi Hendrix style. To maintain high spirits during the event, we recited our unique LigerBots fan chant. Coach Igor Tepermeister also dressed up in our mascot costume and danced.
After a challenging yet rewarding competition season, the LigerBots will wind down into the off-season by conducting community outreach events and working on off-season projects. On Sunday, April 23 we will be attending Newton's Earth Day Festival at the Newton City Hall from 12 to 4 p.m. There, we will display our robot and present fun STEAM activities for children. Check us out!
Thank you to our sponsors for making our success this season possible! Rotary Club of Newton, Honda Village, Teradyne, PTC, Village Bank, Raytheon Missiles & Defense, Newton Schools Foundation, Newton Public Schools, Rockwell Automation, as well as the Cao, Chaudhury Karim, Franklin, King, Preston, Saitz, Sangiolio, Wang Ji, Schwartz, Nedeljkovic, and Housman Families. Your support is greatly appreciated!