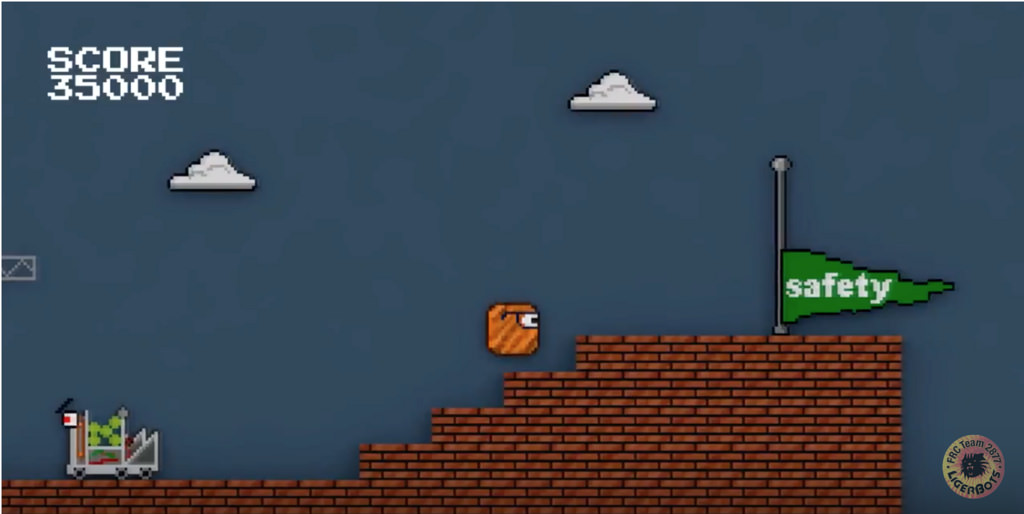 The LigerBots have won first place in the world-wide, FIRST Robotics, 2018 Safety Animation Award competition! Our winning video will be shown at many FIRST Robotics competitions to about half a million spectators over the 2018 season. These animated videos combine an educational message about safety with creative art and imagery. 
In order to follow the retro-1980s arcade theme of the 2018 FRC challenge we developed a story that combined safety principles with elements of our very own video game. We designed characters and scenery, and brought them to life with 3D animation. Finally, we added arcade style music and sound effects along with a voice-over narration by LigerBots team member Lasya to accompany the visuals.
According to LigerBots animator Vivek, the biggest challenge was fitting the story into only 40 seconds — the maximum video length according to the rules. Another challenge was the deadline, which forced us to make decisions fast and start the animation process as early as possible.
 "It took considerable work," said Vivek, "but it was really gratifying. I'm excited about what it means for our team — standing out in the FIRST community. It got me thinking about STEM vs STEAM and how the "A" Art factor ties into the work we do."
Co-head coach John Fitzpatrick said, "Safety is always a major team concern. We have had many dedicated students submit safety animation videos over our ten seasons in an effort to share our passion with the FIRST community. It is extremely gratifying that the students' efforts have finally paid off."
We are very excited to win this prestigious award and hope that our video will have a lasting impact on the community by encouraging safe practices.
Please subscribe to our YouTube channel to see this video and all the rest of our team videos.